The Samurai Way Newsletter
Exclusive Samurai Articles, Published Content, Reviews, Art, Video, Competitions and More
By Paul 'Batman' O'Brien
B.A., N.C.E.H.S., Dip. Acu., Adv. Dip. OBB, Cert Clin. Med. M.AFPA, M.ETCMA, M.C.Th.A.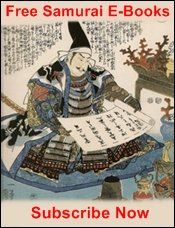 The Samurai Way Newsletter is a FREE monthly e-zine, filled with content relating to the various aspects of the Samurai. Packed with: 
Exclusive articles and reviews

Competitions

Samurai art

Samurai Sword Industry News

Martial arts news and insights

Some personal advice from me

Answers to readers questions

And lots more besides.
 In addition to getting the free monthly newsletter you also get exclusive access to my published article archive and to a range of bonus guides and ebooks..such as...
Constructing Your Very Own Sword Display Case for Under $50 
Building a Tanren Uchi (traditional training device for Swordsmen)
Exclusive Martial Arts Warm Up routines 
An introduction to the Dojo
An introduction to Bushido 
History of the Samurai Sword (Based on my Dublin City University Lecture Series)
Samurai Culture and History - (An Introduction (Based on my Experience Japan Lecture Series)

Building a Cutting Stand

Access to my Published Article Archive
Your Free Samurai Sword Guides - How to Assess What Samurai Sword you Purchase
And many more...
When you subscribe to the FREE Samurai Way Newsletter you'll receive exclusive access to the password protected DOWNLOAD PAGE and be able to access your Free Samurai Ebooks.
So what are you waiting for? 
Get Your Free Subscription Now! 
---
You've been checking out The Samurai Way Newsletter. Return to the Way-of-the-Samurai.com Home Page Here.